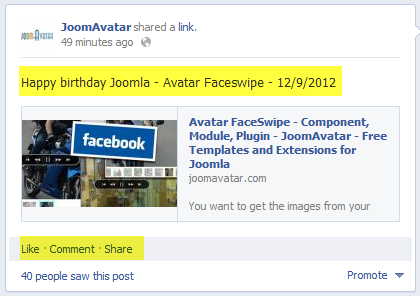 Game Rules:
The name of Game : Happy birthday Joomla - the PRO gift's name - game's day. 
Like our Facebook or Follow Twitter .
Go to our JoomAvatar Fan Page, Select & Like a Game and then share it on your facebook or twitter. 
The title for share must include 

 

#JBDay
And then who has the first comment or last comment and does the rule 2 & 3 and 4 as above will reach the gift.
Each days, each Mini Game has 2 gifts for 2 people.
At the end of each day , we will notice the user has the gift and will send gift in next day.
Party's time:  throughout the September.
Happy 7th birthday to Joomla! Join the party and take our gifts.
JoomAvatar