FEATURES:
PRO Version:
Support create multiple instances on one page (pro-version only).
Support multi selection of Album Folder.
Support random effect in Easing Plugin.
Use  arrows to next or prevour slider.
Easy to Change Size of slideshow, Time display for one image.
Easy to Customize Navigation tabs (such us size of Navigation tabs, number of thumb displayed) and items auto slide.
Auto-playing (optional feature, can start playing or stopped)
Support the wheelup and wheeldown to previous|next item in the list
Support preload images before play a slideshow.
FREE Version:
Single instances on one page.
Slide 10 Images.
MODULE AvatarSlide & Configuration:
Login to Joomla Control Panel page as Administrator
Choice Extension>Module Manager.
Click New.
choice Avatar Slide Image.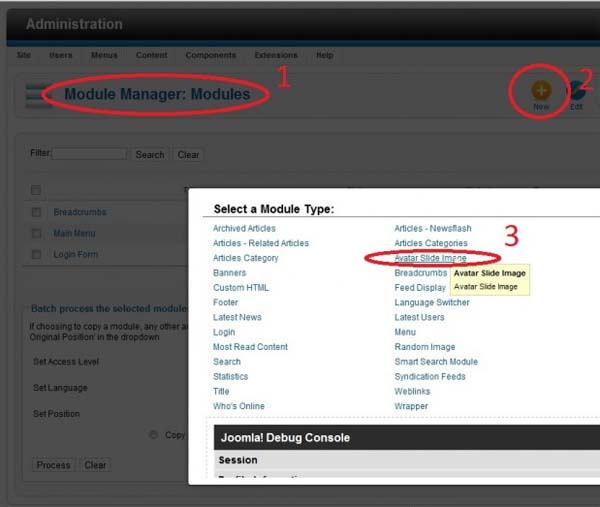 Set the parameter for your slide.
Hold CTRL and click to choice multi Folders Album
Folders Album must be in root_joomla/images/your_folder_album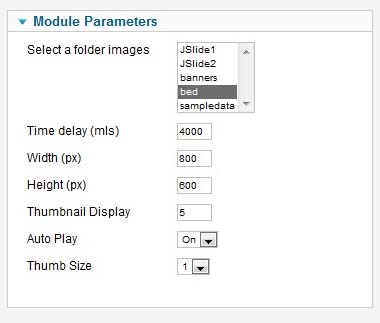 PLUGIN CONTENT SYNTAX
Insert this syntax to your joomla's articles.
{avatarslide src=… height=… width=… auto=… time=… thumb=…/ }
Example :
{avatarslide src=images/Bed width=600 height=500 auto=false time=2000 thumb=6/}
{avatarslide src=images/JSlide2 width=980 thumb=10/}
{avatarslide src=images/album  time=3000/}
Options :
src : Path of album folder (a folder in joomla root. Ex: images/yourfolder)
height : Height of slide (px)
width : Width of slide (px)
auto : Auto playing (true/false)
time : time to silde image (should be more than 1500 mls).
thumb : Number of thumb displayed in navigation bar
(Note: Enable AvatarSlide Plugin in Plugin manager)